I am so excited to tell you about the Abundant Harvest Kids game. We were given this game free in return for an honest review.  There are two versions of the Abundant Harvest Game, the one we are reviewing is the kid version.   The Kid version of the Abundant Harvest Game is for 2-8 players ages 7 and up.  The game is all about teachable moments for the parents (and educators) to teach kids the importance of making decisions that are based on principle.  All of the games at Harvest Time Partners are Conversation Games, games that are intended to strengthen character by encouraging conversation.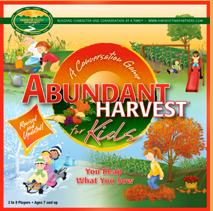 I played this game with my kids, ages 2-14.  The 2 year old got to roll the die and collect Abundant Harvest Reward cards (which are like play money, not a card).  The older kids & I all played by the rules.  We really enjoyed the conversation cards and discussing our answers.  There are questions that I do not think belong in a game for 7 year olds, so we skipped them (like what to do if your parents tell you they are divorcing, that may be appropriate for some kids but I do not feel that is something that I need to make my kids think about). One thing that we all agreed on is that there are not enough light hearted or ice breaking question cards.  Like what is the most embarrassing thing you have ever done?  Or what is your favorite book?  Who is your favorite author?  Those are discussions that could also lead to character building. We don't feel that all the questions need to feel so "heavy", we may make a few cards of our own to include like that.  Another thing that we did not like was that you are rewarded for "bad" behavior in the game. Here are 3 examples of items you earn Abundant Harvest Reward cards for (again they are not cards, they are like paper play money).
" You did 50 extra push-ups each day at practice to get stronger Receive an Abundant Harvest Reward Card" (those are worth 20 points)
"Did not make your bed in the morning Receive a Modest Harvest Reward Card" (worth 10 points)
"Hit your brother because you did not get what you wanted Receive a Poor Harvest Reward Card" (worth 5 points)
The above statements are on the game board.  You roll the die, move your game piece the appropriate number of spaces, read the space you land on and accept the reward given to you by the accountant in the game.  Then you take a corresponding color card (Parent, Child, or School) and answer the question how you think / feel it should be answered based on one of the principles on the principle cards provided.  We (My Man, the teens, and I) all feel that instead of being rewarded you should have points taken away.  After all, we don't necessarily reward or punish for not making beds.  But in life if you don't care for your teeth, you are not going to be rewarded.  And hitting a sibling is definitely not rewarded, not even slightly.
Overall, we really did like this game.
I really encourage you to check out the About Us page at Harvest Time Partners.  I have really enjoyed working with David Esposito.  He "is a combat veteran, business executive, husband, father, and creator of character-building resources that help individuals, families, and businesses reach their full potential in an uncertain world.  David's character and leadership skills were cultivated at West Point and through leadership assignments in the US Army Infantry. As an airborne ranger infantry officer, David led a rifle platoon of 39 men with the 101st Airborne Division through several combat operations in the Gulf War. He was recognized with a Bronze Star for combat operations in February 1991. David and his wife Tracy develop programs and resources designed to strengthen the character of individuals and build and sustain healthy relationships. This includes Character Creates Opportunity®, an initiative that was specifically designed to improve the character development of children, adolescents, and adults. Their patented, award-winning conversation game, Abundant Harvest®, is played by families, schools, counseling programs, and faith-based organizations worldwide as it opens the door to more productive dialogue and encourages decision making based on principles such as honesty, loyalty, and commitment. Reinforcing the law of the harvest, the game's primary lesson is the age-old adage that you will always reap what you sow. They have also created a conversation card game called Face to Face™ that helps to foster effective conversations on real-world issues and to develop the critical life skill of face-to-face communication in a world that is rapidly changing how people connect."
According to their website, Abundant Harvest is an award-winning, patented,* and fast-moving conversation game that helps families and educators open the door to more productive dialogue. It reinforces the importance of developing strong character traits and encourages good, principle-based decision making. Through this game, players quickly learn the law of the harvest—you reap what you sow.
You can see their information videos and description of all of their games at their website, Harvest Time Partners.  The games range in price from $12.49 – $24.99.  The Abundant Harvest Kids game we reviewed is $24.99.
You can like their Facebook page here.
You can follow them on Twitter here.
Here is the link to the Harvest Time Partners YouTube page. 
Check out the Harvest Time Partners Blog.
Here is their Shipping and Returns Policy:
All sales are considered final upon receipt of order.
Orders will be shipped within 48 hours of being received. If a shipment will take more than two weeks to deliver, you will be notified via email.
If materials are damaged during shipping, please contact us at customerservice@harvesttimepartners.com and we will gladly exchange the damaged product with a new product.
If for some reason you are not satisfied with your purchase, please contact us at customerservice@harvesttimepartners.com so that we can address the concern.
Our products come with a 100% satisfaction guarantee.
Harvest Time Partners also has a charitable organization called the Harvest Time Partners Foundation.  David and his wife Tracy established and sponsor the "Harvest Time Partners Foundation, a charitable organization that supports children and young adults in the pursuit of character-building opportunities worldwide. The Foundation supports a wide range of initiatives from college scholarships to community service projects, as well as international efforts to reduce the suffering of children and young adults".
For more reviews of Abundant Harvest Games Check out these links:
Brandi @ The Water Sparkles reviewed Face to Face Teen Edition
Chelle @ Living & Loving By Faith reviewed Abundant Harvest for Kids & Face to Face Adult