Willie's Redneck Time Machine by John Luke Robertson and Travis Thrasher was given to me by Tyndale House Publishers in exchange for an honest review, and an extra copy was given to me to give to you!  Thank goodness because Mr. Thoughtful loves the book and has been bringing it to me at bedtime to make sure we read it, even though he can read it himself. He would not be very happy if I gave one of you his copy of the book!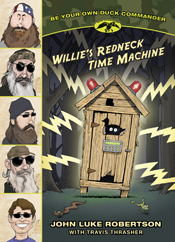 Willie's Redneck Time Machine is the first book in a four-book fiction series featuring the Robertson family of Duck Commander and written by John Luke Robertson and Travis Thrasher.  This series is recommended for ages 8-12, although Mr. Thoughtful is younger than that.   In this book Willie discovers an outhouse in the Duck Commander warehouse while everyone is at lunch, John Luke comes in to see if his Dad is ready to go get Korie's birthday presents (her husband and son had waited to get her presents until her birthday) and they decide to investigate the weird looking outhouse situated in such an odd place.   At the end of each chapter you choose which path to take.  On the first night Mr. Thoughtful kept saying, "Go find your son!", at the end of the book, he said, "Tomorrow all answers are C", LOL.  There are no abc answers and not every chapter has more than 2 choices.  So, the second night, I asked him what choice are we choosing at this chapter and his answer? "Go find your son!"  LOL  I made him choose something different that time and he chose a completely different path, at the end of every chapter, from the night before.  Mr. Thoughtful was all ready asking for the rest of the set after the first night (…hint, hint Grandma…). The titles of the 4 books in this series are Willie's Redneck Time Machine, Phil & the Ghost of Camp Ch-Yo-Ca, Si in Space, Jase & the Deadliest Hunt (you can buy the whole paperback set for $26.99 on Amazon).  The books are sold in paperback and on kindle.  Last night Tall Boy read it to Mr. Thoughtful while I was working on lesson plans, and he loves the book too.  Today he read through every scenario he could, LOL.   He discovered something that I had not found yet and that I have not seen in the descriptions.  One of the scenario choices actually leads you to another book in the series (p. 137 in Jase & the Deadliest Hunt), I'm not sure how I feel about that.  It's a neat idea to tie the books together in that way but since we do not have the other books it is disappointing.  I have not seen any reviews or or even the descriptions stating that you will need the other books in order to complete some of the story paths and that bugs me.  The other books in the series are also mentioned throughout the different scenarios but you are only sent to one for a story continuation from this one, Tall Boy believes that Si in Space will lead you back to this one.  The choices being made are making Mr. Thoughtful think about what the consequences may be and then he finds out if the choices were good or bad, and he's learning about different time periods (like the Civil War).   Over all, we we liked the book and I am sure Mr, Thoughtful will be asking his grandmas for the other books in the series… So, yes I would recommend the book but I would recommend you buy the whole series at once if you do that or just be prepared to not be able to finish the first book completely until you get the 4th book.  (None of my links in this post are affiliate links.)
Comment below for a chance to win a copy of Willie's Redneck Time Machine.
I will use Random.org to pick a winner on Sunday, October 5.   I will post the winner on the blog and will email using the email address you use to comment with.