Welcome to this month's installment of the Real Life Homeschooling Blog Hop at Rooms of Knowledge!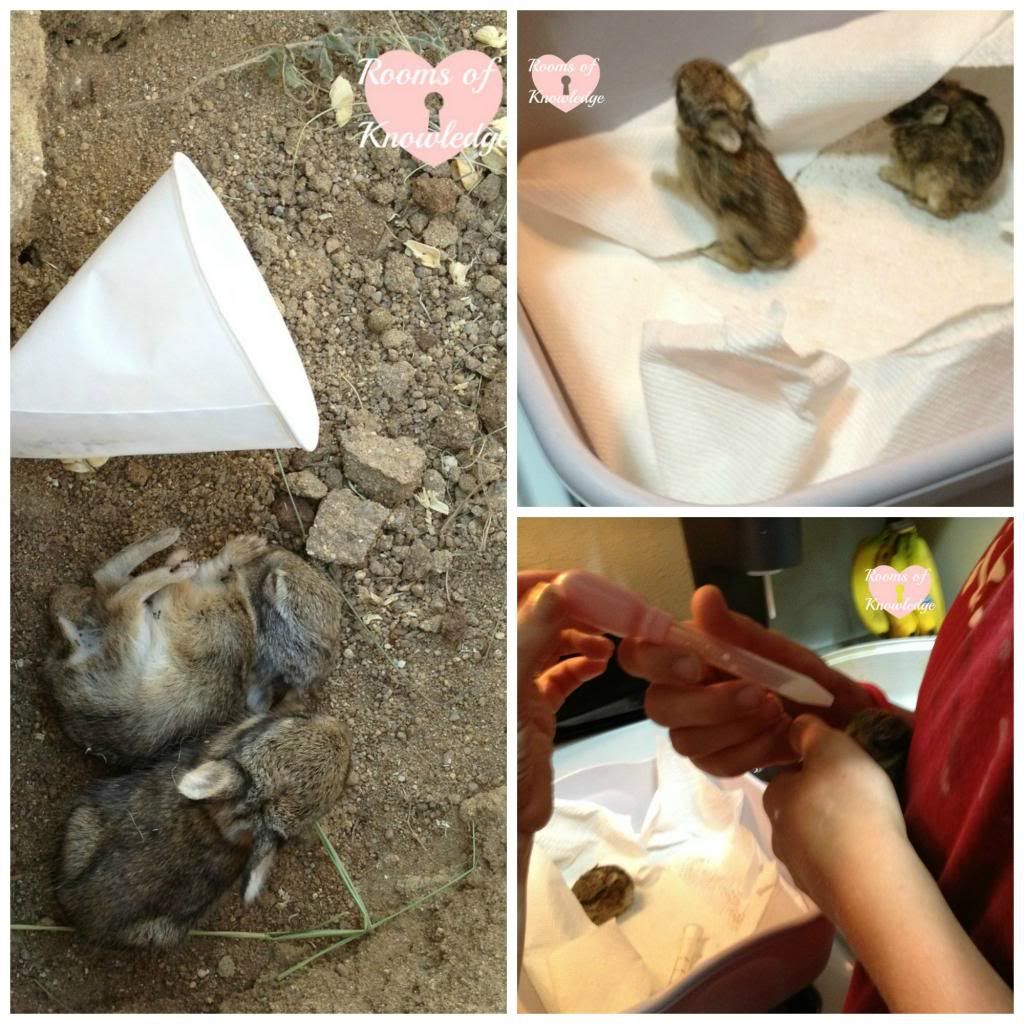 We had a mommy rabbit make a little home for her babies in the dirt around the foundation of the barn, the dog found them and actually didn't mess with them.  There were originally 3, but one left his safe little home and we never saw him again.  After a rain storm their home was flooded and caved in, so Zach dug them out and brought these 2 home.  We warmed up milk and tried to give them some.  We found an empty plastic storage container that we were not using and drilled air holes in the lid and placed some wood chips and the bunnies in it.  Of course, Zach had to go help My Man with more barn building the next day and I was left to care for the poor little things.  I can honestly say I was not terribly happy about it, and I did delegate care to Brandi (I did help her).  But, worst of all, the poor things both died while he was gone. When he got home that night he buried them.
I took Mr. Thoughtful & Zach out to run a few errands a few weeks ago and stopped by our local thrift shop to drop a few things off and we saw this puppet theater sitting out back in the donation drop off.  I told them we would have to come back in a few days to see if it was still there.  So, a few days later I took Mr. Thoughtful out on a breakfast date and to run some errands.  We stopped in the thrift store and saw it.  It was a bit more than I wanted to spend but it's in pretty good shape and I knew it would be loved.  So, for $20, we brought it home.  It did not have a curtain on it so Brandi offered up the adorable green and white polka dotted material and her seamstress abilities and made a curtain!  The kids hunted down all the hand and finger puppets and put on plays and of course had to write the names and times of the shows on the chalk board part.  Little Miss FunShine has even sat an ottoman behind it, a trash can next to it and a milk crate full of library books on the other side of her and made it her librarian desk!  When the cousins came to visit last week, they enjoyed playing with it too!  Some of the best $20 ever spent methinks!
Zach was given the assignment to take apart one of the old chicken coop runs and attach it to the bottom of their current run to stop the digging out issue.  While he was looking it over he decided it might be best to switch them from the square coop to the round one and use the square run under the round one.  It's a good thing he likes to analyze things because it definitely worked out much better.  The bunnies need moved to a different area of the yard again, and this time it will be MUCH easier!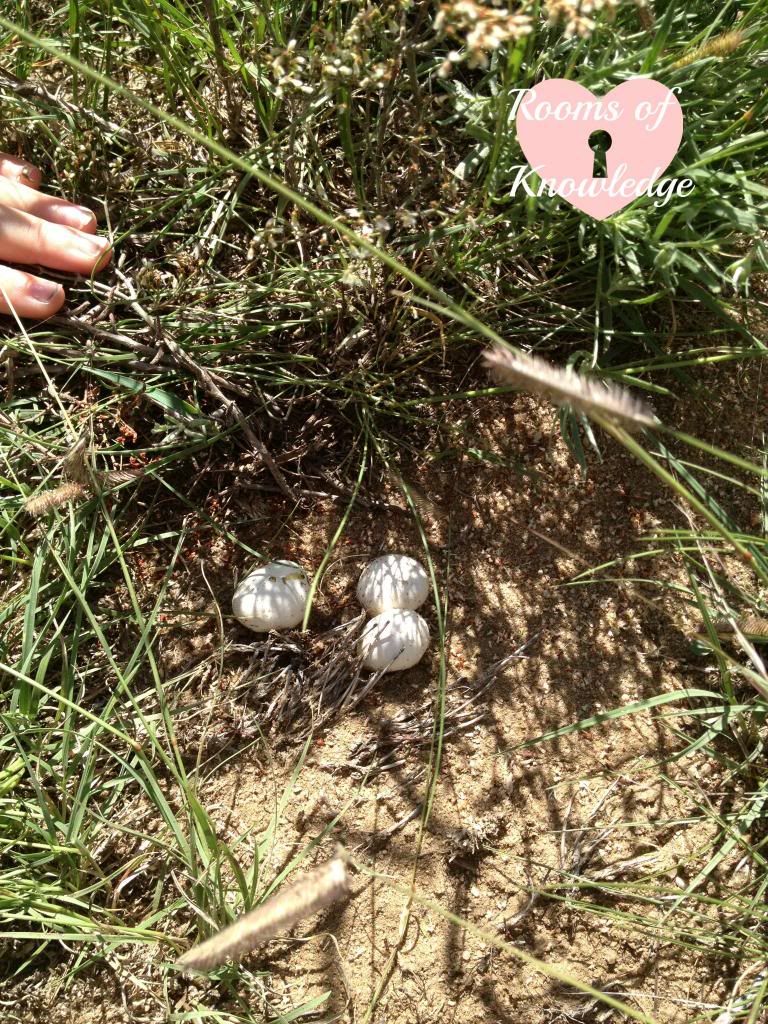 When my parents, sister, and her kids were visiting at the end of August we took them out to the property and Little Miss FunShine discovered these.  I told Brandi to squash them.  Brandi, Little Miss FunShine, and Princess all did NOT like that idea.  Go Figure!  I think they are garter snake eggs.  I still think think they should have been squashed…
Also while at the property, my dad, Zach, Mr. Thoughtful and WonderBoy worked to fill holes around the barn foundation.  You see when it RAINS out there it causes holes in the dirt around the foundation that need filling.  That situation will be fixed, hopefully soon, with walls and more fill dirt and a bit less sand. I'm sure you can guess who worked the hardest!  LOL  He even got a blister on his hands for the first time in a VERY long time!  Poor Granddad – can you believe they made him work harder than they would?
On Labor Day, we went for a family hike.  The teens took turns carrying Little Miss Hugs-A-Lot in her Osprey carrier as Daddy was all ready carrying a pack and I was still recovering from a yucky cold that was not helping with my breathing or energy level.  Zach found wild onion or wild garlic, he could not remember which it was and I don't think he has looked it up since the hike to see which it was.  It was slippery muddy in spots so the kids had to take their shoes off before getting in the van!  LOL  In the middle picture in the collage above Zach asked Little Miss Hugs-A-Lot to scratch his neck, she was making really cute faces while doing it (of course, she quit when I got the phone out to capture it! LOL). As much I have a dislike for being outdoors (the bugs, the allergens, the mud…), I LOVE being with my family and doing things they enjoy more so I am learning to enjoy the outdoor world!
(*In case you didn't all ready guess it, Princess and WonderBoy are my niece and nephew.)
If you want to check out the other co-hosts posts, click here for a list of the co-hosts blogs.
You can also join us at the Real Life Homeschooling page on Facebook.
Don't forget to link up your Real Life Homeschooling posts!