Hello Everyone!  I have an awesome giveaway for you!  John Echols at My Home School Grades has generously given me a one year subscription to My Home School Grades for one of my readers to win, it could be you!  Before I tell you all the important information you need to know about My Home School Grades, other than we love using this program, I am required to tell you there are affiliate codes in this blog post. !  First, click here if you want to read my review of My Home School Grades I wrote back in May 2013.
My Home School Grades was created by a home school dad (John Echols) and a home school graduate (Jordan Shute).
You can manage your student's grades easily.  With My Home School Grades, entering grades is simple. Choose your grading system, no need for a calculator.
Use your Curriculum and Lesson Plans. Choose from My Home School Grades collection or add your own. MHSG also allows you to request that specific curriculum be added.
Track Extra Curricular Activities.  My Home School Grades allows you to track all of your student's activities and awards. 
Export official transcripts. The export feature of My Home School Grades allows you to pull it all together in an official, college ready transcript and print it.
My Home School Grades web app works on your computer (desktop or laptop, Windows or Apple), tablet, and smart phone.  We LOVE this feature and have used it on a Windows laptop, an Apple desktop, my iPhone, an iPad, and an iPad Mini so far.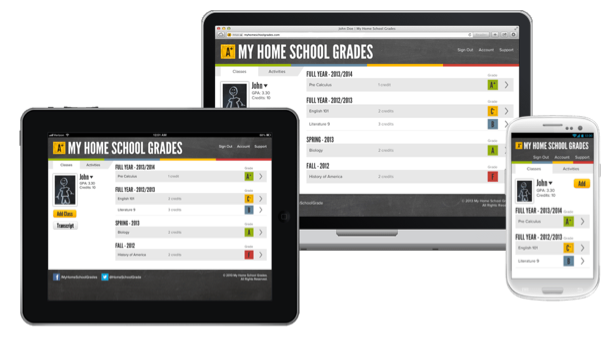 You can follow My Home School Grades on Facebook (https://www.facebook.com/MyHomeSchoolGrades) and Twitter (https://twitter.com/homeschoolgrade).
For those of you who do not win or do not want to wait, click here to receive 15% off a recurring subscription. This code is good now through December 31, 2013.
I will be verifying entries. Rafflecopter giveaway